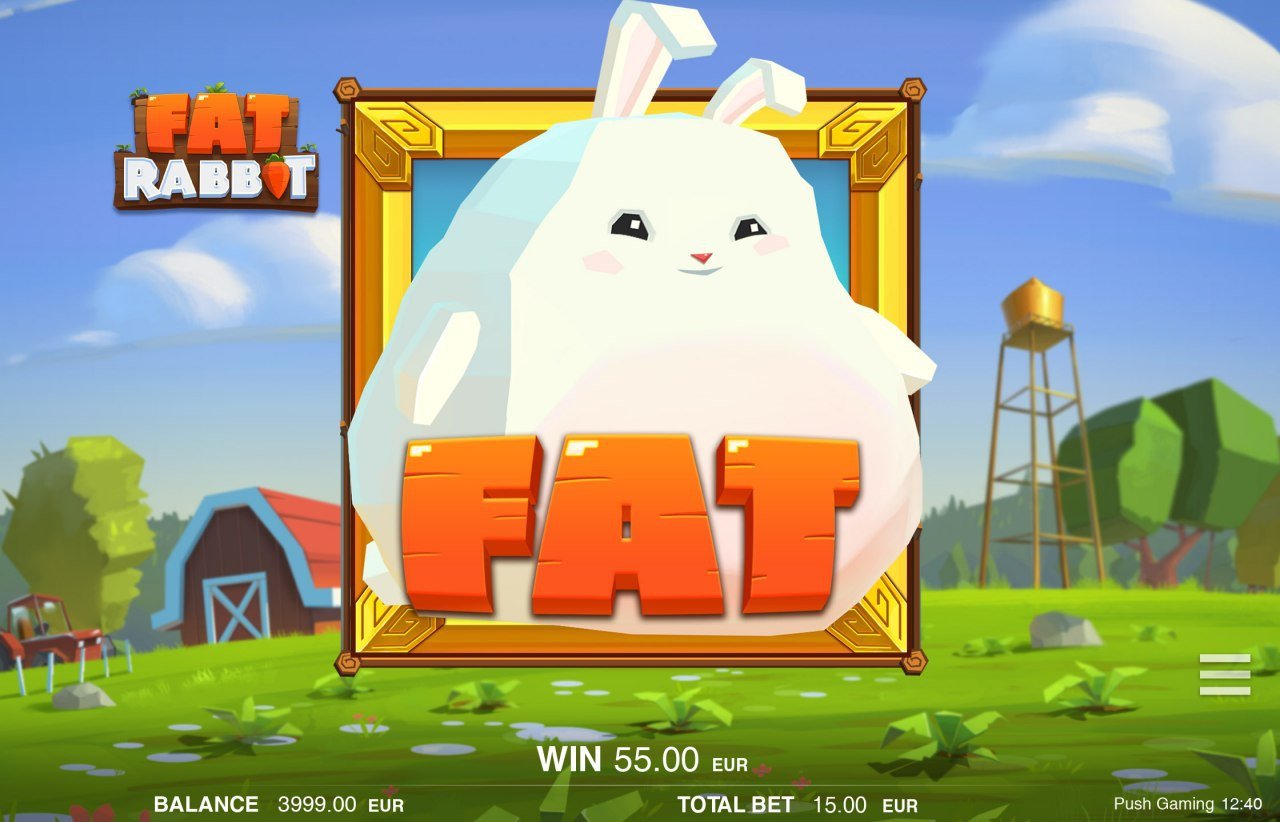 The game follows the adventures of a rabbit on a farm. The game has nice graphics in a unique block style. With 50 paylines, frequent wins and a generous max win of 20x your stake, there is no shortage of fun and gambling. Fat Rabbit Slot is an online game from Push Gaming. It is a medium volatility game, which means that players can expect to see medium sized wins on a fairly regular basis. The payout rate is 96.25%.
How to start
All game options are located under the reels in a neat little field, so you can immediately see how to start the game. On the right side, you'll find a rotation button that's larger than the other controls, and an autoplay feature. The latter allows 10 to 100 automatic spins, so you can sit back and relax. Since the 50 paylines in this gaming slot are fixed, you only need to determine your total bet and you don't need to worry about coin amounts or payline changes.
On the far left are the sound settings, with which you can turn the sound on and off, as well as the paytable. If you click on the latter, you will have access to the same deployment and autorun options as found in the main control panel. You can also read the rules of the Fat Rabbit Slot game.
How to Play
You can play this 
slot free
or for real money. It has 50 paylines and you can wager up to € 50.00 per spin. However, you can also place bets from € 0.50. Fat Rabbit contains a 5 x 5 grid filled with lots of symbols and providing a decent number of paylines. Each of the symbols fits the theme perfectly; even the playing card symbols are made of wood to pay tribute to the rustic farm. Playing card symbols contain colored elements: blue on clubs, green on rhombuses, red on hearts, and yellow on pictograms:
Clubs and diamonds give the lowest winnings, where you get € 0.16 for 3; Get € 0.60 for € 4 and € 1.60 for 5 identical symbols by placing a € 1.00 bet.
Hearts and spades lead to a slightly larger win: € 0.20 for 3; € 0.80 for 4 and € 2.00 for 5 identical symbols.
These amounts vary depending on your specific rates. To give you an idea of the possible winnings, all of the following numbers refer to a € 1.00 bet.
The next largest symbol is a bale of hay, which gives € 0.32, € 1.60 or € 6.00 with 3, 4 or 5 matches. A bucket of water costs € 0.40, € 2.00 or € 10.00, and a growling dog costs € 0.60, € 3.00 and € 16.00, respectively. Angry Farmer is the most valuable of all the standard symbols with winnings of € 0.80, € 4.00 or € 20.00 for 3, 4 and 5 matches respectively. A fat rabbit costs the same as a farmer and also acts as a wild symbol, which means additional potential.
Theme & Graphics
The graphics are colorful and vibrant, and the aesthetics are a mixture of pixel and 3D art. The attractive design of this free play slot invites you to spin the reels. According to the Fat Rabbit slot review, what the users particularly like is the connection between the theme of this free slot and its bonus features. The goal of the game is to make the initially small rabbit as fat as possible, which increases the chance of winning. It definitely adds to the fun of the game. You will enjoy watching the bunny skip the reels to eat any carrots in sight, which can lead to lavish profits.
Soundtrack
Sometimes the soundtrack of a slot can be a little overwhelming and you may feel the need to turn it off. However, it is accompanied by a rather soothing, gentle melody, pleasing to the ear. But if you get a winning combination, the sweet melody is replaced by an obtrusively loud electronic sound, which makes it unmistakable that you've made a profit.
Highest Profit
As well as Razor Shark and Blaze of Ra Fat Rabbit is developed by Push Gaming. It offers some pretty impressive wins. The largest single win in the game is worth 20 times your stake, which may not seem like a lot. But, thanks to the bonus features, you can win a total of 1000 times your stake. This is a very large exciting profit potential for a non-progressive online slot.