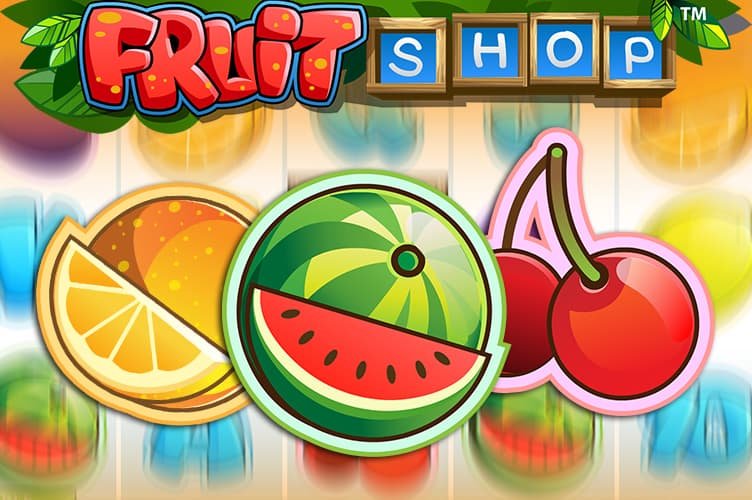 Anyone who is a fan of classic slot machines will definitely love this new version from game developer NetEnt. The company launched Fruit Shop Slot in 2011 and combined the ever-popular online slots with a fruit shop theme to create a truly energetic and fun gaming experience. The game has now become an integral part of the range of many online casinos. This can be explained by its user-friendly design and the ability to accumulate free spins.
Payout Rate (RTP) and Volatility
Fruit Shop NetEnt Slot has an RTP of 96.71% and low to medium volatility. This means that with an RTP that is above the industry average, you have a great chance of winning this slot machine. The fact that Fruit Shop has medium volatility means that you can keep winning in order to fund the game with a chance to make really big wins. According to the Twin casino review this game gets paid quite often, and players with a slightly larger budget should consider playing at an online casino.
Presentation & Theme
The game is designed in a colorful cartoon style, so it is not only pleasant to look at, but also easy to play. The soundtrack and overall theme of the game give it a cheerful and summer feel. This is a really great choice for those who want to pass the time and enjoy playing slot machines online. The colors are really bright and glowing, which makes the 
slot game
relaxing and fun. At Twin casino, you can play many Fruit Shop-like games.
How to Play
Fruit Shop is very easy to play anytime. The vibrant theme and visual design give the player a whole new casino experience that comes from the classic fruit slot machines. This game has a standard 5x3 reel structure. There are also additional options that allow you to set both the stake level and the value of the coin. It always has nine paylines – you can't change that.
Like many games in the NetEnt collection, Fruit Shop offers a Max Bet option, and you can also set the reels to play automatically if your hands are tired of clicking. When using the maximum bet function, the next spin is automatically adjusted so that it is at the highest possible bet level. Autoplay takes over the next 10-1000 spins until you turn it off yourself. It also turns off if coins fall below or exceed a certain number, or if you win an extra spin that you need to play.
The Fruit Shop has only 11 characters. They consist of five fruit symbols and five cards, and the game's logo completes the list. In this free play game, the logo serves as a wild symbol. Fruit symbols cost a lot more coins than cards, and cherries are the most valuable fruit on the list. All card symbols in this game have the same amount as in most other games, with the ace being the highest payout, then the king's suits, and then the numbers. If you hit the wild symbol, you can use it to replace any symbol on the paylines. It also doubles the profit.
How to win in the Fruit Shop?
In order to win, you need to collect a winning combination of symbols that starts on the far left reel and goes to the right. All combinations and their payouts can be seen in the paytable.
Many free spins can also be won at Fruit Shop. The way they are launched differs from the standard slot machine. Each symbol in the game can turn several free spins on.
If you line up two or three cherries, you get one free game, and with four and five cherries, you get five free games. If you get three of the same fruit made from lemons, plums, oranges and watermelons, you will get a free game. If you add four, you get two, and five makes five. You can also use matching cards to get five fruit shop free spins rounds. Any winnings generated during the free spins round are multiplied by two, and when you activate the wild symbol, the multiplier is increased up to four times.
Slot from a reputable provider
There are several reasons to consider Fruit Shop a legal slot. Probably the biggest pound in this matter is the ISP itself. NetEnt is a well-known name, the company has been in the casino industry for over 20 years. If you look at the NetEnt website, you will find that there are also the logos of three well-known gambling authorities there.
In particular, these are the logos of the Malta Gambling Authority, the British Gambling Commission and the competent authorities of Gibraltar. There's also a link to eCOGRA, a company that ensures fair play by testing random number generators in games.
Play the way you like
The game can be played online for free at many casinos. Free Slot is also available on the NetEnt website. NetEnt has made sure you can play Fruit Shop on the go. You can play this slot machine on any mobile phone or tablet anywhere you want.
Although it is a very profitable game, there is a reason why it is so popular. Free spins and wilds are easy to start, and there are many winning combinations. If you like simple and useful games, this game is for you. To get the most out of Fruit Shop Slot, you should only bet on what you can afford. Before playing, you must set a betting limit so that you can fully enjoy the game.
Reliable game from a reliable provider
We conclude that Fruit Shop is a flawless slot with a good reputation. The advantage is that the machine comes from NetEnt, a supplier that has years of experience and a good reputation in the scene. Nevertheless, it is necessary to play Fruit Shop in a reputable casino so that there are no problems – for example, with a payout. The slot is also perfect for all lovers of classic slot machines with their traditional symbols. In any case, we can give Fruit Shop positive feedback in many ways.