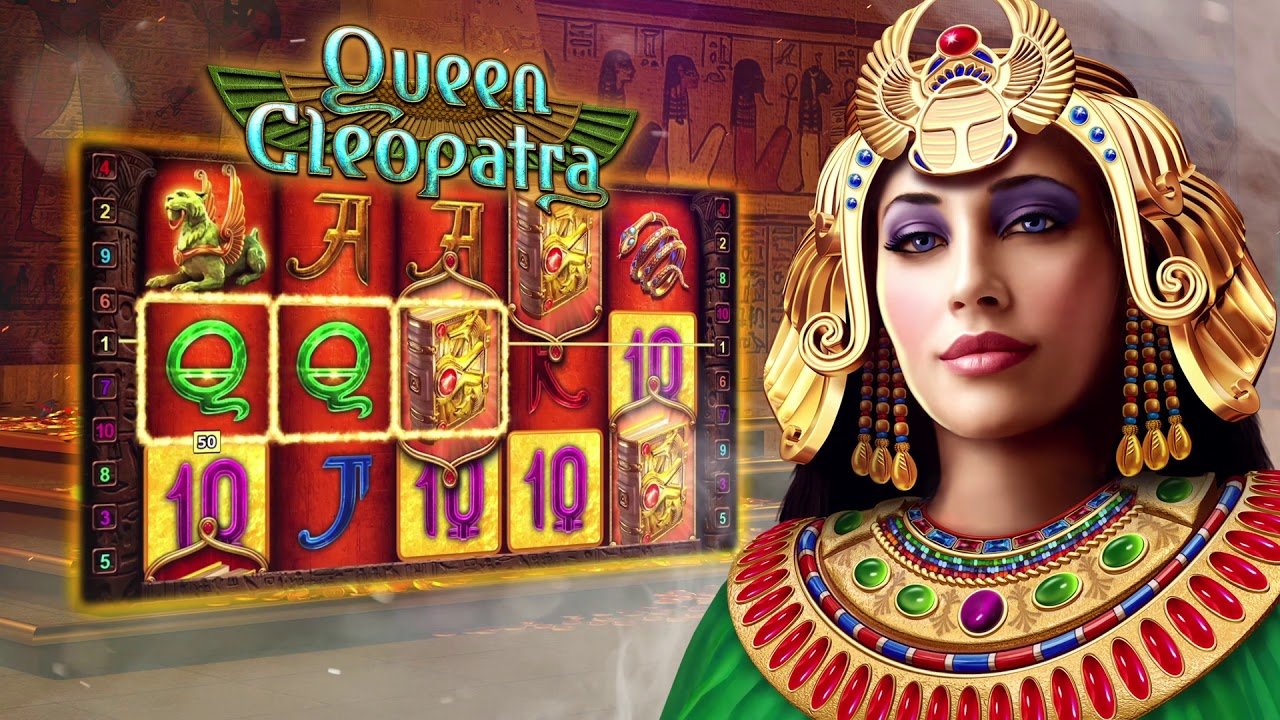 Cleopatra Plus Slot
Meet the most famous Queen of Egypt in the incredibly addicting game from IGT. The American manufacturer has come up with something new for their fans: collecting certain symbols gives you access to different levels. Exciting add-ons await you on each new level, and at the end of the day you can even win big! Cleopatra Plus slot can be played on mobile phones in many online casinos.
Divine Queen
Cleopatra was the last female pharaoh of the Egyptian empire and she worked to expand it. For this, many admired her. Today she is especially known for the love dramas that took place between her and her fellow rulers, such as the mighty Caesar.
Numerous artists, writers and film producers were inspired by Cleopatra's stories, and in the meantime, she also entered the world of slot machines. IGT took on the life of Cleopatra and developed the Cleopatra slot machine. Download it and start an amazing journey through ancient world of faraons! 
It is a traditional five-reel machine that takes on the popular Egyptian theme. Of course, this slot is also dedicated to clearing the gold of the pharaohs in the secret burial chambers of the pyramids. The main features of the game are wilds, which can even double the winning, and scatter symbols, which provide entry to the bonus game. There are up to 30 free spins, a level up feature, super spins and profit multipliers, all of which provide extremely high profits.
Go to a higher level!
An excellent feature of Cleopatra Plus Slot Machine gameplay is that it has several levels. Whoever rises to the next level unlocks new bonus cards and free spins features that can increase profits. To move to the level, you need to collect followers who will join you. Followers are earned using certain bonus symbols. They can be recognized by the pharaoh, who appears either alone, or with a woman, or with two women next to him.
Graphics and animation
Like many other games Cleopatra Slots from IGT is also surprisingly successful and offers only high quality. Considerable effort has gone into the graphic representation and design of individual symbols. Common kings, queens, jacks and tens are represented in the ancient Egyptian tradition by symbols suitable for the game, as well as gold and pearls.
The soundtrack is great too. Exotic sounds from the Middle East accompany the gameplay as you would expect. The sex appeal of Cleopatra is also highlighted and emphasized. The animations are varied and fluid. 
Loyal Followers
You will get new subscribers depending on the number of people on the bonus symbols. They not only allow you to progress to the next level, but also serve as a scatter symbol. If you get three, four or five scatter symbols in any combination in one fell swoop, you trigger payout free spins.
Cleopatra Plus offers a lot of fun and useful features. However, the 
bonus game
is not one of them. But in this video slot you can play and get to other levels:
Selected Bastet 0 - 49 subscribers;
Heart of Bastet 50 - 119 Followers;
Bastet is satisfied 120 - 199 subscribers;
Beautiful Desire of Bastet 200 - 349 Followers;
Eternal Power Bastet 350 - 599 followers;
Eternal Light Bastet 600 - 899 followers;
Golden Face Bastet 900 - 1249 subscribers;
Glorious Soul of Bastet 1250+ subscribers.
Bonus cards and free spins for more variety
Playing Cleopatra Slots by IGT you can place your followers in one of the locations on the bonus cards. The choice is between the Nile Valley of Alexandria or the Giza pyramids. However, not all cards are available at every level. Each card shows different places to take your followers.
It is possible that several trailers are put in one place. After all the pendants have been placed, the price will be quoted in the appropriate places. These can be free spins, multipliers, fixed winnings or super spins. For each subscriber, you will receive a reward that will be used for the next free spins.
The free spins feature of this slot is triggered by landing on three or more scatter symbols, which is a golden square with a pharaoh inside it – It is called a follower. Depending on how many followers you have, you will be at different levels and they will decide how many free spins you get. It looks like this:
Alexandria Levels 1-5 give you 3-20 Free Spins with multipliers ranging from 2x to 4x.
Alexandria Level 6-7 gives you 4-21 Free Spins with multipliers ranging from 2x to 4x.
Alexandria Level 8 gives you 3-21 Free Spins with multipliers ranging from 2x to 4x.
Level 7 pyramids give you 4-25 free spins with a multiplier of 2x to 5x.
Level 8 pyramids give you 3 to 30 free spins with a multiplier of 2 to 5.
Other Supplements
In addition to the features already mentioned, their games naturally also have a wild symbol. This is represented by the Cleopatra Plus symbol. This can help complement the winning combinations on the available 20 paylines by replacing other symbols. Bonus symbols cannot be replaced. If more than one wild symbol contributes to a winning combination, the corresponding payout is doubled.
Reels spin online on your computer, smartphone or tablet. This is definitely a very interesting game that stands out from the background of regular slot machines. A test round is almost indispensable!
The principle of the slot
The Cleopatra game of five reels and three paylines. Symbols are mainly represented by gods and religious objects such as Anubis, Isis or the scarab, which are also present in other 
free slots
. The wild is Cleopatra, who doubles the profit if she appears on the payline twice. Players can choose one of three deities. If they then appear on the reels, they provide a higher probability of winning.
The higher the level of the game, the higher the payoff. It's good that there is a memory function so that the level of the game does not disappear again immediately after a short break. There is no jackpot or risk ladder. The following winnings are possible: up to 30 free spins, five times profit multiplier, cash prize up to 30 times the bet size, last free spin multiplier up to 50 times or up to 10 super spins.
Bets, features and winnings
Cleopatra penny slots bets start at 40 cents and can be increased up to € 800 per spin. The base game profit depends on the online casino. In theory, full-screen mode will bring millions of dollars in profit. Even higher wins are possible with free spins, where win multipliers or super conversions can increase the line win again. Taking into account possible high stakes and usually high winnings, Cleopatra machine is one of the most popular in online casinos.
Conclusion
With Cleopatra Plus slot machine, IGT has had real success in terms of high limit winnings and bonus features. The retained level-up feature to increase the likelihood of winning, many free spins with high profit multipliers, super spins and other conveniences are all to the liking of fans. Thus, it can be forgiven for the fact that the graphics in the game are a bit simple. Cleopatra free can be played on a mobile phone in a fun version. When registering at IGT Casino, players should receive a welcome bonus.